EDITORIAL: The last people you want to give details of your personal life, discreet encounters and financial accounts, connections  to is Diane Duke, Kayden Kross and Trinity St. Clair. Here's why:
1. As Monica explains below, Trinity St. Clair cashed in big time by exposing her illicit affair with Disney executive, Richard Nanula. This ArrangementFinders.com, by being linked to her, would appear to be a front for possible extortion plots against the executives who use these illegal prostitution sites. They are promoting these sites as legal dating sites for your college daughters to be pimped to these elitist corporate pigs.
2. Why is ABC public television network promoting Kayden Kross and these 'BARELY LEGAL' prostitution sites? ArrangementFinders.com is now being run by a convicted criminal who defrauded a VETERAN out of his home in a Porn Valley mortgage scam. And . . . after promoting illegal prostitution and sex trafficking as just another type of dating, ABC FAMILY channel proceeds to promote prostitution as glamorous TO CHILDREN on a Saturday night. ABC proves themselves to be nothing more than #MEDIAPIMPS!
3. In the photo below, we see Porn Valley's FSC stalker org leader, Diane Duke, new ArrangementFinders.com president, Kayden Kross and Kiss and Tell prostitute/mistress, Trinity St. Clair, pointing cartoon penises at each other in a promo for their new fake dating site. Is this the way we normally see professional business executives behave as part of their marketing campaign? It would seem there is nothing more to ArrangementFinders.com than a badly veiled replacement for their overly exposed "Luxury Companion" illegal pimping site. Are you ready to give your PERSONAL INFORMATION and DISCREET ENCOUNTER DETAILS to criminals, hookers and stalkers?
Dealing with ANYONE connected to Porn Valley is dealing with ORGANIZED CRIME. Give them your information and they will exploit EVERYTHING YOU HAVE. Refuse, and they will destroy your life.
Ready for a date, NOW??
MONICAFOSTER FEBRUARY 8, 2015
Alexandra Mayers fka Monica Foster commentary: Over the past week, Mike South of MikeSouth.com wrote two posts about Kayden Kross and the "SugarDaddy dating" site she was recently appointed President of ArrangementFinders.com.
The primary surface  issue in regards to sites such as ArrangementFinders.com is that it essentially encourages and facilitates prostitution.  Yes (technically at least), a SugarDaddy/Sugarbaby relationship is a blurred line between traditional dating and prostitution, but from my  perspective the deeper issue and real danger when it comes to "SugarDaddy dating" sites is that both a SugarDaddy and a SugarBaby who are connected through such a "service" are at high risk of being blackmailed and/or extorted by the site's operators who have access to their identities and personal information.
To prove my point, take a look at one of ArrangementFinders.com's highly promoted "Sugarbabies" – a pornstar by the name of Trinity StClaire.
For those who are not aware, it was Trinity St. Claire's website that prompted the highly publicized Richard Nanula sex scandal.  Richard Nanula (an incredibly prominent CEO and executive of companies such as Disney, Miramax, Colony Capital and Boeing) appeared in several photos which were leaked to the mainstream media that depicted him in a sexual situation with pornstar Samantha Saint.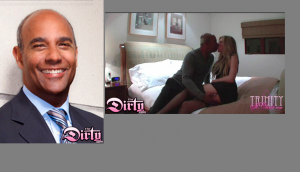 The photos featuring Richard Nanula made national news and he consequently resigned from his position at the time at Colony Capital LLC. It was never officially stated exactly how Samantha Saint came to meet or record a sexual act with Richard Nanula…was her Samantha's "John", was he attempting to start a career as a pornstar, or was he her "Sugardaddy"? Regardless, shortly after the Richard Nanula scandal hit the media, porn agent Mark Spiegler went on official record with the media as to having supplied pornstars to Richard Nanula.
Considering that ArrangementFinders.com is openly promoting a pornstar (Trinity St. Claire) whose website humiliated and ruined the career of a well respected and highly successful business professional such as Richard Nanula, should the Silicon Valley "Techies" (the target client base that it's President Kayden Kross has stated her company is looking to cater to) have even a shred of faith that ArrangementFinders.com is trustworthy of being privy to their personal information?
I think not…that is unless Silicon Valley "Techies" want to share Richard Nanula's fate.