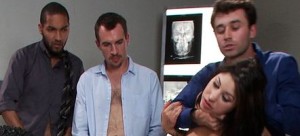 Alexandra Mayers aka Monica Foster commentary: I'm the type of person who'd rather tell the truth and be widely hated, than be a liar and widely well liked.  That being said, it's highly probable that I'm the polar opposite of male pornstar James Deen.
Before you continue reading this post, you need to read what I posted yesterday about James Deen blaming racism in the pornographic industry on white female pornstars (from Gentile backgrounds), rather than the true source – the [Ashkenazi] Jewish.  It wasn't until I completed and tweeted the post that I realized that James Deen is doing far more than fraudulently avoiding the truth of the REAL source of anti-black (or anti-African American) racism in the pornographic industry in effort to protect himself and many of his Ashkenazi Jewish peers (who control the pornographic industry).  James Deen's recent publicity stunt of claiming to be "pissed off" about racism in porn in actuality is an attempt to pressure white female pornstars (and many other young female pornstars of varying ethnicities) into performing in sex scenes with HIGH HIV RISK GAY & BISEXUAL MALES.
Before I continue, I suppose I need to share a bit of "porn industry 101" with my readers who are unfamiliar with the historical and current mentality of the pornographic industry.  In the past (meaning the 1970's to the late 1990s) porn professionals didn't readily accept male performers who openly performed on BOTH the homosexual and heterosexual "sides" of the pornographic industry.  Generally the unwritten rule seems to have been to "pick a side and stick with it" – the primary reason being (just as it is today) that deadly STDs such as HIV are more prevalent in homosexual populations opposed to heterosexual populations.
In the early days of the "straight side" of the porn industry, between the segregation of homosexuals from heterosexuals & the the mandatory STD testing all heterosexuals agreed to do prior to performing sex acts in pornographic scenes (please note, that at that time, to the present, routine STD testing is not standard practice for the homosexual side of the pornographic industry), the STD rate appeared to be successfully kept to a minimum.
However, around the year 2000 the pornographic industry substantially changed – for the most part because a multitude of pornographic industry professionals decided to put profits before health and safety in a variety of ways…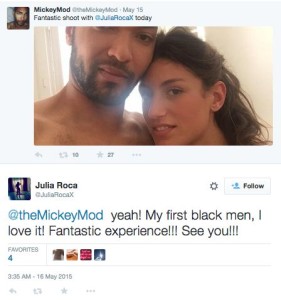 On both "sides" of the pornographic industry, porn performers began to realize that they could make far more money by doing "privates" (prostitution work with the untested general population – often without condoms) than by only performing in pornographic scenes on camera.  In fact, many prostitutes began to realize that performing in porn was a way to justifiably increase their prostitution rate – so in conjunction with the advent of the internet – the pornstar talent pool exponentially expanded in a very short period of time (from a couple of hundred performers to thousands).
With the arrival of Viagra, male performers no longer needed "talent" to be world-class performers.  ANY man could simply pop a pill and perform like a pro with ANYONE or ANYTHING for hours – therefor suddenly straight male performers had far more competition than in the years prior.
As internet "corporate" porn studio giants began to establish a firm presence (most notably in the Los Angeles pornographic industry), many casting agents (who were often the directors getting paid per scene by the "corporate" porn studio giants) began to turn a "blind eye" to the health risks male performers who work on both "sides" of the industry pose, considering that many were willing to work for lower rates than their "straight" peers (due to the vast majority of them making  their primary income from working as high dollar homosexual prostitutes).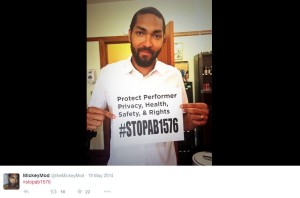 Finally, in the last decade highly successful male pornstars who have worked on both the heterosexual and homosexual sides of the industry as performers such as Derek Hay (aka Ben English) found their way to "power positions" by becoming media "front men" for the pornographic industry.  Along with men such as Hay controlling a vast segment of the talent by opening agencies which "normalize" male performers working on both "sides" of the porn industry – James Deen's most recent actions are not that surprising…
Though it's clearly been through the high HIV risk homosexual males that much of the recent HIV cases have made their way into the talent pool – for the most part, the pornographic industry's political face (the Free Speech Coalition) has not wanted to acknowledge the reality of the situation due to the solution (which is mandatory condom usage).  Oddly enough, Free Speech Coalition members have gone as far as to encourage the belief that the majority of HIV has entered the talent pool through the straight Black (African-American) talent, rather than through the heavily protected (usually white) homosexual males who work on the straight side of the porn industry. Even though the Aids Healthcare Foundation (a foundation which is very sensitive to the LGBT community) has made substantial efforts to inform the political face of pornographic industry that at this time, condoms must be utilized on a mandatory basis due to the high rate of disease currently on BOTH "sides" of the pornographic industry – still, pornographers such as James Deen are willing to play a deadly game of Russian Roulette.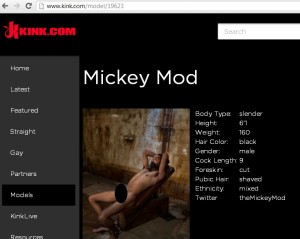 So now let's take a look at the "Black" example James Deen utilized in his latest "I'm pissed off about racism in porn" publicity stunt – pornstar Mickey Mod.
First, Mickey Mod's label of being a "Black" male needs to be addressed.   Mickey Mod has worked predominantly for the pornographic studio Kink over the past few years.  On Kink's website he is not listed on his profile as "Black".  He is listed as "Mixed".  Mickey Mod only BECOMES "Black" when it's convenient for him – such as now to gain publicity as James Deen's "Black friend".
Mickey Mod is not straight.  Mickey Mod has performed on the homosexual side of the pornographic industry without utilizing condoms.  James Deen's pornographic studio does not follow the mandatory condom laws (which is why the Aids Healthcare Foundation has named James Deen's studio in a legal complaint as of this month – September 2015).Kink, the porn studio at the center of the most recent HIV cases in the Los Angeles porn industry, is the primary pornographic studio Mickey Mod has performed for…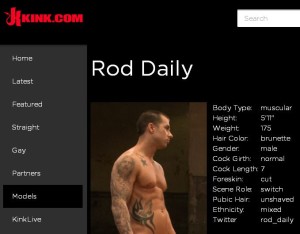 Is it likely that Mickey Mod could find himself walking down the same HIV positive path as Cameron Bay and Rod Daily? Only time will tell.
Yes – Mickey Mod appears to be bright "red flag", but does James Deen care? No.

Instead, in effort to "normalize" Mickey Mod to the general public and make him appear like "a poor Black guy who's the victim of racism by the mean racist white girls of porn" (even though Kink studios FOR SOME STRANGE REASON lists him as MIXED in their performer database rather than BLACK) – James Deen has decided to MASK Mickey Mod's HIGH HIV RISK SEXUAL ACTIONS & PERFORMANCE ACTIONS by saying that THE ONLY REASON that girls don't want to work with him is because he is "Black".
Here's the truth of how James Deen thinks (keep in mind thatI was an active porn actress from 2008 to late 2010 so I'm aware of how the system works):
Deen's greed drives him to make as much money as he can from the content he produces, so he needs to save as much money as he can on the production end as possible.  I'm willing to be that Mickey Mod works at a VERY low rate per scene for Deen, being that he knows damn well that being affiliated with Deen will result in MASSIVE adult and mainstream exposure.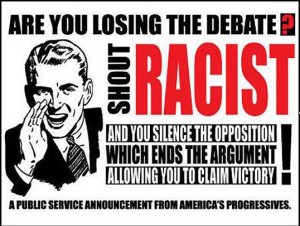 Girls new to the porn industry aren't quite as naive as they used to be though…  There's a LOT more information online than there used to be about the truth of porn industry (such as high HIV risk homosexual males performing on the straight side of porn) thanks to people like myself, Diana fka Desi Foxx, Mike South & Shelley Lubben.  Women new to the porn industry are figuring out very quickly which avenues to avoid and that's a HUGE problem for James Deen's bank account – which is why he's forced to resort to crying "RACISM".
THE REALITY, is that the only card James Deen has left to play in his deck is the "Race Card", because otherwise he has to tell the truth – which is the fact that he's willing to put countless young women's health at great risk in order to both save and make more money.
Rather than openly state to the public "Hello, I'm James Deen and I'm a greedy Jew" just as he once openly told the public "The Jews know we're better than everyone else." Deen is willing to LIE to the mainstream media about the source of racism in porn stemming from the white female pornstars his liveliood is built upon (who are often TOLD by the Ashkenazi Jewish studio owners and agents that they shouldn't perform with Blacks unless it's for a substantially higher rate per scene). It is the Ashkenazi Jewish people who control and own the vast majority of the pornographic industry that created the racial hierarchy amongst porn professionals to begin with. It's also the Ashkenazi Jewish people who elevated one of their own, James Deen, to become the ultimate negative Ashkenazi Jewish stereotype – a stereotype that both the Honorable Minister Louis Farrakhan and Dr. David Duke have discussed for several years.
James Deen Blames Racism in Porn on White Female Pornstars Rather than the Men Who Produce It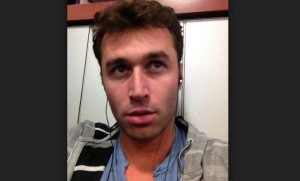 Alexandra Mayers aka Monica Foster commentary:  It took me a few days to collect my thoughts in regards to James Deen's attempt to fraudulently shift the blame of the source of racism in porn from the true source (which is the Ashkenazi Jewish individuals who control the pornographic industry) to white female pornstars from gentile backgrounds…
I questioned myself as to whether or not I should post a blog about this issue being that the propaganda Deen's pushing in regards to the SOURCE of the racism in the porn industry doesn't effect me directly… however considering that I know what he's claiming to be false, and being that if it weren't for sympathetic whites prior to the end of American slavery (who assisted with movements such as The Underground Railroad) I might still be a slave – I feel an obligation to make sure mainstream media and society as a whole knows the TRUTH of how the racism towards Blacks (African-Americans) in the pornographic industry stems directly from the multitudes of ASHKENAZI JEWISH individuals who own, run, dominate and control it (Ironically this situation parallels how it was the Ashkenazi Jewish who instigated and encouraged the slavery of Blacks in America).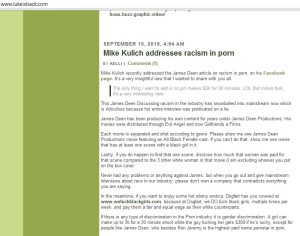 Before I begin, I suggest you view 2 videos I've produced in regards to the truth of the Ashkenazi Jewish control of the pornographic industry (both videos are posted at the end of this blog): 1) The relationship between Blacks and the Jewish in the Porn Industry – Racism  2) How the Jewish and Satanists Insured the Porn Industry – Anti-Porn Activists are the Key
Below is the original text from a recent interview with Ashkenazi Jewish pornstar James Deen in regards to his perspective of racism in the porn industry.  Immediately after this interview was published via mainstream media – his pornographic industry peer (who is Ashkenazi Jewish as well), a studio owner by the name of Mike Kulich immediately posted a rebuttle via his facebook stating essentially that James Deen is falsifying the facts.
I've decided to interject the truth of the racism in porn against Black (African-Americans) in brackets "[…]"within theJames Deen Vice.com interview below.  From my perspective Deen (who RARELY works with Blacks / African-Americans himself) is attempting to fraudulently slate himself as an "ally" to Blacks purely in effort to generate politically correct publicity for himself and increase his own profit margin (by paying gentile White females less per scene while CONTINUING to pay Black talent substantially less than their counterparts of other ethnicities).
In addition, I need to note that it's highly likely that a few racial discrimination lawsuits are about to be (or maybe already have been) filed against some porn studios – so Deen is attempting to "save himself" from appearing to have participated in the racism of which he CLEARLY has (for his entire career).
James Deen has starred in 2,035 adult films since he started making porn eleven years ago, at the age of 18. He gets paid to have sex on camera [and it seems privately via meetings set up through PamelaPeaks.com], and every day women visit his website to fill out applications in hopes of having the honor of fucking him [more like porn industry talent agents tell women new to the industry that doing a scene with him for free is "good for their career"]. He also works behind the camera, as a director and producer of adult films. When I saw that he tweeted that he had a complaint about his job for the first time, I found it hard to imagine what it could be [as of current, he's probably complaining about the Aids Healthcare Foundation filing a legal case against him for breaking the law].
"Today I'm working, casting a scene for jamesdeen.com," he told me, "I let the performers know who they'll be working with and an agent tells me, 'She doesn't do interracial porn [James Deen is an Ashkenazi Jewish man who has thrived on "passing as white" in a multitude of porn movies.  The last thing he needed in his early years was competition from Blacks, and it is rumored that he himself has told female pornstars that he doesn't like to work with white females who routinely shoot with Black guys ].'"
This is a situation Deen has encountered before when casting and directing porn. He explains to me that female performers frequently agree to do a scene and then back away when they discover that he plans to have them on camera with a person of color [Considering that "interracial porn" is a genera that James Deen's own people, the Ashkenazi Jewish", established & have capitalized off of for years, why wouldn't he tell the female performer and/or her agent exactly who she'd be working with and that the scene is "IR" – why is Deen being deceptive when booking talent from the start?].
"It's irritating and disgusting and annoying [then why didn't you say anything about it your first year in James Deen? Is it because now that you're a successful director, you don't want to pay White females according to the payscale men who look just like the image you see in the mirror everyday created?]. And It creates a huge problem with casting," he says[yea, I guess it would considering you primarily hire White girls from gentile backgrounds – when was the last time you featured Black girls Deen?]. "I end up in these situations with agents where I'm trying to plan a scene and I have to say, 'Okay, one girl will be having sex with all the men and one girl will only have sex with the white men,' because there are women who have never had sex with a black man on camera and want to be paid $500 extra for it, as if it's a chore[Ashkenazi Jewish male pornstars (and sometimes pimps) like you are who tell them that their prostitution rate will go down the moment they have sex with a Black guy on camera.  The Ashkenazi Jewish Brian Berke of GiirlzInc discouraged white girls from doing IR scenes ALL THE TIME]. It's racist and it's belittling and it's keeping me from making a good product and it's hurting good performers like Mickey Mod."
This practice—fairly common within the porn industry—implies that a woman needs to be compensated extra for having sex with a black man [yep, so that paying Black women substantially less per scene can appear justifiable]. Deen gave me the phone number of Mickey Mod, a black porn actor [he's not THAT Black in appearance to be honest – he appears Bi-Racial so I guess he's "acceptable" to Deen], because he didn't think it was fair for my article to revolve around "the complaints of a pissed off white guy," and Mod agreed that the practice is dangerous, telling me that in the porn industry, "for people of color, there is an unstated suggestion that they are of lower value [actually the suggestion is stated loud and clear on Pornwikileaks – a website that James Deen's attorney Michael Fattorosi not only supported but advised it's backed Donald Carlos Seoane aka Donny Long as to how to run, build and operate.  To this day, I'm called a "nigger" at least once a week on the website.]"
He says that anytime he gets together with one or more performers of color, the topic is inevitably talked about—they'll discuss who doesn't do interracial scenes and who is waiting for what company [which is most likely controlled by an Ashkenazi Jewish person who supports paying Blacks less in porn than Whites] to offer them what amount. Statistics collected in a groundbreakingly large study by Jon Millward show that while 87% of porn actresses are willing to take a facial (that is, a shot of cum to the face), only 53% will do interracial porn. Mod tells me that white performers often rationalize their unwillingness to perform with a black actor by saying they are worried about alienating their fans [more like they're worried about White men who don't like to have sex with prostitutes privately that have had sex with a Black man on camera]. "That is really weird," he says, "because that means they want to hold on to fans that are racist [Not fans…prostitution clients]. There's a difference between not wanting to perform with someone because they're a person of color and not wanting to perform with someone because you're not compatible with them [then why are you friends with James Deen? Is he somehow not "compatible" most Black women in the industry, yet is compatible with nearly every White one?]."
In a 2013 interview with The Root, popular black porn performer Lexington Steele suggested white porn actresses' reluctance to film "interracial" scenes originated externally. "If you look at the individuals that are in positions of authority over some of the white females, the ones governing them are the ones implementing this practice of no interracial," he said. "It's their managers, boyfriend or husband or family members… quite honestly, adult media is the only major business that allows for the practice of exclusion based upon race.[Lexington ALMOST got it right, but he's afraid to mention that it's the Ashkenazi Jewish people who control porn that encourage the racism.  FYI – Lex 100% is owned by the Jewish porn industry.]"
Although "interracial" scenes are a popular subgenre of porn, these scenes often play open the racist idea that white women are violating themselves by having sex with black men [pretty must all porn nowadays with the exception of the features shot by Wicked Pictures or Adam & Eve depicts the woman being "violated" – regardless of the male's ethnicity]. As Mod wrote on his blog after being nominated for Best Supporting Actor at the 2011 AVN Awards, " My nomination comes with increased visibility and perhaps the opportunity for more "mainstream" work with little to no say in how said work is edited or marketed. Will my next trip to LA make me the star of 'Chocolate Poles in Vanilla Holes vol. 47' or 'A Nigga fucked my Butterscotch Latina Daughter No 87?'"
The refusal of white porn actresses to participate in scenes with black performers—or charging a premium to do so—is especially jarring given the fact that black actresses are still paid substantially less than white performers for the same work. Deen said that while there are any number of reasons a performer could turn down work, he would prefer if they would state their reasons honestly [why? He's not honest.]. "I'm not gonna tell people what to do with their bodies. You have the right to say no to sex with anyone. But I would much rather someone just say they don't like black people [Then why don't you openly state that you don't like Black women James Deen?], because then I can be done with them. If someone says, 'I hate niggers,' I will say, 'Okay, that's your right and I won't hire you because you're an asshole.'[That's not true, I know for a fact you've worked with Matthew Paul Holder and he's both stated verbally and in written form that he "hates niggers"]. I'm at the point where I'm not cancelling on my guys anymore, because there are only so many good performers. I'd rather be discriminating against the racist people [oh, so you'll discriminate against yourself James Deen and the people who promote you and sign your paycheck? I doubt it.]."
Deen's voice has risen while we talk about this. I tell him he sounds mad, and he echoes Steele's words. "I am mad! I'm fucking pissed! Porn is the only industry where you can say, 'I don't want to work with him because he's black. That's messed up! [stop pretending that you care in attempt to win over Blacks to your fanbase]'"
I ask Mod why he thinks this is still happening. "There's never been much incentive for porn to take the moral high road," he says. "This isn't talked about much in the industry. People are so afraid of the word 'racist.' You can participate in racism without being a racist [same goes for being a hypocrite like yourself Deen]."
"As far as porn, there needs to be more transparency… I really wish interracial wasn't even considered a genre of porn."[then perhaps the Jewish males such as yourself who control, run & dominate the pornographic industry shouldn't have created such a genera]
—–
In conclusion, here is a list a few of the Jewish people who I know (personally via my time as a pornstar in the Los Angeles porn industry) for a fact have a racial bias against Blacks in the pornographic industry: Steve (Steven) Hirsch of Vivid Entertainment (less than 1% of his contract stars have been Black), Steve Orenstein of Wicked Pictures (no Black contract stars), Brad Armstrong of Wicked Pictures (has displayed racism towards me personally), Brian Berke (of the now closed GiirlzInc / AMA worldwide agency), Shy Love (of TheVIPconnect Jewish via marriage – was openly racist towards myself when I was seeking representation at one point & towards a pornstar once known as Mahlia Milian), Mark Spiegler (openly racist towards myself and a multitude of Black porn industry professionals over the years), Ari Scott Bass aka Michael Whiteacre (a known criminal stalker affiliated with the pornographic industry's political face – the Free Speech Coalition), Paul Fishbein (a Jewish man affiliated with Ari Scott Bass who's social network Xbiz.net banned me due to my telling the truth about the porn industry).
James Deen has worked professionally with every individual in the list above.
For a more extensive list of the Jewish individuals who control the pornographic industry please click here.  I also suggest you explore the multitudes of videos Dr. David Duke has produced in regards to the subject.