Alexandra Mayers commentary: I'm really not certain who makes my stomach churn more…Hillary Clinton or Kayden Kross.   If you've ever wondered what Kross will look like as she gets older, just take a good long look at Hillary Clinton…
Along with Kross behaving in a similar manner to Clinton, they both have the same short legged – big hipped body type too.  It's strange…
As of late Kross (who just had pornographer Manuel Ferarra's baby) has been put out to pasture like an old cow by being relegated to squirting milk out of her breasts in creepy Jules Jordan videos like "Jesse: Sex Machine"…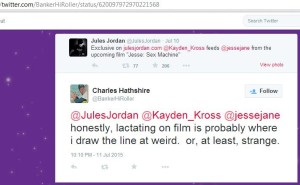 I could have sworn that Manuel Ferarra specifically said on his 20/20 feature that he didn't want Kross performing anymore, but maybe he just meant with men… It's appalling to me that Ferarra doesn't seem to mind his fellow porn "pimp" Jules Jordan selling his wife and his daughter's breast milk to men world wide, but deep down I'm not surprised.  Kayden Kross's current situation is pretty stereotypical of exactly what happens when a pornstar breeds with and/or marries a pornographer.
I wonder if Kross exploiting the nutrients meant for her child via a disgustingly vile porn video is any indicator of what Clinton will exploit.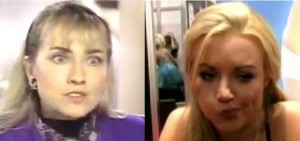 in her quest for the Presidency. It's pretty known at this stage that Clinton isn't exactly sympathetic in regards to rape victims, so she just might have to whip out a tit and squirt a few people in the face with it before the election in order to remind people that she's technically a woman.
Below is a little chart in regards to the lives of Clinton and Kross.  I think Bill Clinton and Manuel Ferrara should definitely go out for a beer one of these days…those 2 have a LOT in common.

I've been under the impression for a long time that the only reason Barack Obama followed Kayden Kross on twitter was to get a better idea as to how Hillary's mind works.