EDITORIAL: I have no doubt this is what happens to many men, and women, who pay for sex. The main goal of a prostitute is to take as much money from the john as they can, When the pro pushes for more activity which in turn increases their rate, the more likely it is you are with a real hustler, grifter, scammer, con artist. This is why prostitution and sex trafficking must be addressed. There are many victims. This is not a victimless crime!
MEN: A sex worker's successes depend on your weaknesses. Their money is made selling you a fantasy. If you believe anything they say or do is genuine, you've bought their fantasy hook, line and sinker and they've just landed themselves a whale. Don't be a sucker. Get yourself a real woman and experience the reality of true intimacy!
Alexandra Mayers aka Monica Foster commentary: I doubt it's only married NBA players this happens to. I have a feeling what Lisa Ann outlines in the post below is exactly what happened between Miramax and Disney exec Richard Nanula and Wicked Pictures contract star Samantha Saint.
Beware ballers – pornstars attached to entities such as The Luxury Companion sound as though they're far more trouble than they're worth.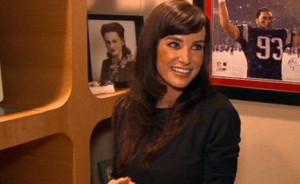 A hotel tryst could cost an NBA player more than the cash in his wallet.
As adult film star turned fantasy sports aficionado Lisa Ann tells Complex, athletes have become easy blackmail targets for "actresses" in the porn industry.
"Most stories of NBA players getting hustled do not shock me since I've probably heard the worst from girls talking on porn sets about the things they do to players," Ann explains.
"You would be shocked how many NBA players have been blackmailed in an effort to keep their privacy. My guess is a minimum of 25 percent of NBA players have dealt with blackmail at some point in their career," she continues. "I've heard girls brag about long-term hustles where they have a player paying their rent and expenses just to keep them quiet and out of their family life."
While single players are still considered prey, Ann shares that it's the wedded stars who are the top of the depth chart.
"I've heard girls say make sure he is married or in a relationship before going back to his hotel with him. Once there they wait for their moment alone with his wallet and take photos of all of his credit cards and his ID. The final part of the plan is blackmail," Ann adds.
Though ladies looking for more than love pose a threat to these athletes, Ann also cautions players venturing to strip clubs.
"Strip clubs are another common danger for young players. I know clubs tend to operate with the idea that most people don't want to be caught there or going there. So they often scam credit cards and girls often steal wallets after a guy has had too much to drink," she shares. "I have witnessed clubs shake down wealthy patrons that were drunk as well as set up 'outside jobs' where they have someone waiting for a patron to leave."
Knicks guard Cleanthony Early became a cautionary tale last December, as he was shot and robbed leaving a Queens gentlemen's club. As Early recovers and eyes a return, Ann advises that athletes looking to blow off steam should seek solace elsewhere.
"With hustles like this happening to regular people, you can imagine how much more likely it is to happen to a famous, naive, 6'8″ NBA millionaire. He's like a neon target to these people, and the longer he's at the club, the greater the chances sinister plans get set in motion," she notes.
Lisa Ann Presents: 5 Ways NBA Players Can Avoid Being Hustled
The former adult superstar shares with us the lessons on sex and security she teaches to young NBA players.