Pornstar Gia Paige (photo via @GiaPaige on twitter) – hopefully she'll keep her younger sister OUT of pornography.
Alexandra Mayers aka Monica Foster commentary: Both myself and ex-pornstar Diana fka Desi Foxx have thought for years that there's a certain group of criminal pornographers and porn agents who target and effectively sex traffick minors into the adult entertainment industry.  Well, today it appears I've found solid evidence of the issue…
When pornstar Gia Paige (who's currently with Hussie Models) entered the porn industry, she introduced her younger sister (who is 19 today) to her then agent, a man by the name of Scott Ohanian (known as Scottie Platinum).  According to Paige's younger sister's twitter feed, at the time, Ohanian had invited Gia Paige on a vacation and he'd stated that it was OK for her younger sister (legally a minor under the age of 18 at the time) to come along.  According to Paige's sister, the entire time she was on the vacation, Ohanian attempted to have sex with her AND recruit her into the adult entertainment industry.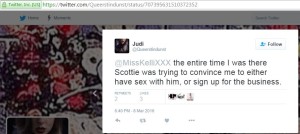 pornstar Gia Paige's younger sister telling veteran industry blogger Kelli Roberts about Scott Ohanian's attempt to traffick her into porn when she was minor.The revelations of Scott Ohanian allegedly attempting to recruit Gia Paige's younger sister enter pornography via coercing her to sign a porn industry contract (a contract which by no means would be legally valid being that it's illegal to contract anyone in the United States of America for sex work) came about while Paige's younger sister was in the midst of an argument on Twitter with veteran professional porn industry blogger Kelli Roberts of LukeIsBack.comFrom my perspective, Kelli was attempting to convey to Paige's sister that in no way is it OK for her to be recruited into porn as a minor by Paige, Ohanian, or anyone else for the matter – nor is it OK for Paige's boyfriend and agent (Riley Reynolds of Hussie Models) to verbally threaten women by stating (as he allegedly did to Kelli) "If you were my bitch, I'd slap the fuck out of you."
Though Gia Paige may find the porn industry to be to her liking at this phase of her "career", her opinion likely will change in time.  It was incredibly irresponsible for her to have had a hand in introducing her younger sister to the world of adult entertainment when she was a minor, but something tells me Paige's story is far more common than the porn industry will ever openly acknowledge.